Top Tips For Buying And Maintaining School Uniforms
This page will help you with anything involving the buying or upkeep of school uniforms.
How To Buy
Whether it is in store or online, we make this part as easy as possible.
In store, there is always someone to help you. We have leaflets that clearly breakdown what is compulsory and we walk you round the shop to make sure we get you the correct sizes and colours for your age. We are located at Blackminster Business Park.
The website is always up and running to make sure you can get what you need. Offering a click and collect service, in addition to standard delivery and expedited delivery, to ensure that you can get your items when you need them.
General Tips
You need a school uniform that is going to last.
Our David Luke garments are tested for their tensile strength, seam slippage, seam strength, colour fastness to washing, colour fastness to rubbing wet/dry, abrasion, pilling and additional tests specific to each garment. Basically, they are built to last!
Here are some general tips to help care for your garments:
Separate whites from colours.

Follow label guidelines, as the year goes on, you'll be able to tell whether you've done this or not!

Wash embroidered uniforms inside out as much as possible.

Ask the kids to change as soon as they get home, to make sure there are no spills on their uniform from dinner or wear and tear from playing.

Get the kids into the habit of hanging up their uniform as soon as they take it off Monday-Thursdays, so they are more likely to avoid using the floor-drobe!

Set Friday as wash day, so that everyone knows that their uniform goes straight in the washing basket as soon as they get home.

Label everything! It will stop any arguments between the kids and will make it easy to track down anything that gets left on the dreaded bus!

Air dry clothing as much as possible, any drying with extra heat leads to shrinkage.

The occasional dry clean of a blazer will really improve its longevity, aim to get it done in school holidays, so there is no rush for it to be done.

Clothing with printed logos should be ironed prior to wearing, this will help to set the logo and reduce cracking later on.

When ironing nylon garments, try to use an additional piece of fabric between the iron and the surface of the nylon, try to use a cooler temperature where possible.

Add detergent to the water in the washing machine, rather than just putting it in on top of the clothes, because it can stain clothing if you just throw it in on top of the clothing.

Close any buttons or stitches before washing so they are less likely to get damaged.

A stitch in time saves nine! If your buttons are looking loose or a seam is opening up, nip it in the bud straight away so that more serious repairs aren't needed later on.
Uniforms need to be looked after to reduce any wear and tear, following the washing instructions will improve the longevity of the uniforms, but accidents happen! Here's what to do: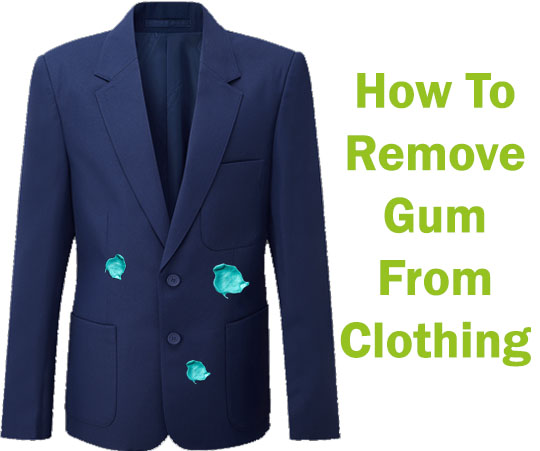 Here's what to do about the dreaded chewing gum stain:
For bulkier and thicker clothing:
Place ice cubes in a freezer bag

Place the bag on the gum until it hardens, or rub an ice cube on the gum until it hardens.

Scrape off the gum with a blunt knife
For delicates:
Pull off as much gum as you can with your fingers

Wrap the garment in a plastic bag tightly and put it in the freezer until the gum hardens. Or rub an ice cube on the gum until it hardens.

Pull off as much gum as you can without damaging the material

Use an old toothbrush to get rid of the last bits that are clinging on.
After either method, soak the patch in cold water and detergent then wash as normal.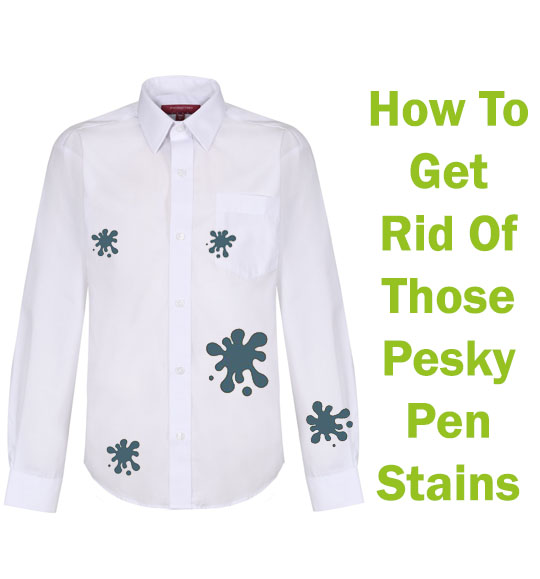 Here's what to do about the irritating and unfortunately common biro stain on a prestine white shirt:
Using Hairspray:
Get a hairspray that contains alcohol but doe not contain perfumes, oils or conditioners, as they may stain the garment. (Check the ingredients and try a patch test on a similar material just to make sure)

Dampen the ink stain with a wet sponge to prevent the hairspray from drying out the stain.

Hold the can about 2 Inches (5 cm) away from the stain until it is thoroughly soaked with hairspray.

Scrub the hairspray into the stain with a scrubbing brush or an old toothbrush.

Repeat until the stain is gone, if it persists, try the below method as well, then wash on its regular setting.
Using a Stain Remover:
Find a stain remover in the supermarket with specifically says that it can remove ink stains.

Blot the ink stain using an old damp cloth before you apply the stain remover, try and removed as much of the stain as possible.

Apply the stain remover to the pen stain until the stain is covered.

Let the stain remover set into the stain, if the stain remover doesn't mention a specific amount of time, then about 10 minutes should do.

Blot the stain with an old damp cloth again, more of the ink should come off onto the cloth now.

Repeat if necessary, at first, wash the garment by itself on its normal settings to make sure that the ink doesn't run onto other clothes.
With both methods, make sure that the clothing is completely stain-free before you air it to dry. Otherwise, it will be impossible to get it out.
Have we missed something?
Please drop us an email to hello@thevaleteam.co.uk
or call us on 01386 830 950.